Q & A with Tim Russell
Q) Who writes all the scripts?
A) "Garrison Keillor writes pretty much everything on the show. He's amazing."
Q) How much rehearsal do you have every week before you are on the air?
A) "We see the scripts for a quick read-thru Friday night. On Saturday afternoon, we go over Garrison Keillor's rewrites on stage and on mic. Then, we're live on stage and on the radio. It's wonderful that over four million listeners tune in each week to our broadcast."
"Sometimes, [Garrison Keillor] is writing before the show, sometimes right before we go on stage…We're so used to the way it works, that a lot of times we can roll with the punches and fill in the blanks…[Garrison] keeps you on your toes."
-Tim Russell, "'PHC': Rolling With The Punches"
Q) Are you two the only cast members on the radio show?
A) "We're joined each week by one of our lovely and talented sound effects guys, Tom Keith (at home) or Fred Newman (on the road). Sometimes, a guest actor will join us for the show, usually some wonderful talent like Al Franken or Kristin Chenoweth."
Q) Do you contribute to the show's scripts?
A) "Sue Scott and I are responsible for choosing a voice for each of the characters that Garrison Keillor writes for us. If Garrison has another sound in mind, he'll let us know. Once in a while, I'm asked to fine tune the words spoken by my celebrity voices."
Q) What was it like working with Robert Altman on the movie?
A) "We were honored and touched to work with Robert Altman on his last feature film based on A Prairie Home Companion. The movie had a stellar cast and filming it was a great experience for all of us from the radio show. We've collected premiere photos, interviews and movie clips on our A Prairie Home Companion Movie page."
Behind the Scenes
A Prairie Home Companion with Garrison Keillor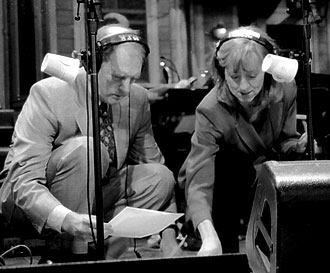 Tim Russell and Sue Scott shuffling through their scripts during a rehearsal for "A Prairie Home Companion" with Garrison Keillor.
(Photo: Cheryl Walsh Bellville)
"Other cast members drifted around, for a time sitting in the audience…I wondered if they realized 4 million people were hanging on every word. At their mikes, they became the voices of familiar characters that anchor the show: Barb and Jim (Sue Scott and Tim Russell) praising the mellowing agents of ketchup…"
-Mea Kaemmerlen, "Keillor gets down-home at the Shore"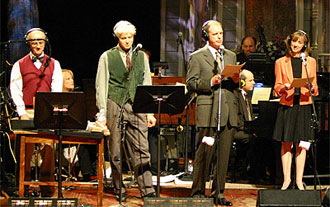 Sound effects men, Tom Keith and Fred Newman with Tim Russell and Sue Scott performing on Garrison Keillor's radio variety show.
(Photo: Kelly Schaub, MPR)
Listen to

Audio Excerpts
Tim Russell's and Sue Scott's voices are available for commercial radio, television, film and animation voice-overs via ISDN.
To Book or Audition:

To hire Tim Russell and Sue Scott contact Amy Oppegaard of Wehmann Models and Talent, Inc. in Minneapolis at 612.333.6393.

LA representation: Contact Wes Stevens of VOX at 323.655.8699.
Q & A with Sue Scott
Q) Why do you wear headphones on stage?
A) "We wear headphones in order to hear each other and the live audience. In our headphones, we're hearing what they call the 'broadcast feed.' It's exactly the same mix that our radio listeners are hearing."
Q) How many live shows do you do on the road?
A) "It varies from season to season. On average, half of our shows are done on the road. However, this past season, we were on the road close to two-thirds of the time. Next season, we will be home in St. Paul performing at the Fitzgerald Theater much more than usual."
"'I really care about the audience in the theater,' [Sue Scott] says. 'That's what I understand. It's hard to fathom four million listeners, so I think about the people in the theater. The live audience is part of the show...we can't do [A Prairie Home Companion] without them.'"
- Sue Scott, "'It's a great job'"
Q) Are you on staff with A Prairie Home Companion full-time?
A) "This is a weekend gig for Tim and me. During the week, Tim is on the air every morning on 830 WCCO Radio as their entertainment editor. If my schedule permits, I perform on stage with one of the professional theaters here in the Twin Cities. Tim and I can also be found weekdays doing commercial voice-overs in one of the many recording studios in downtown Minneapolis."
Q) How did you get this gig?
A) "For both the short and long answers to that question, you can read how I went from theater in Garrison, Iowa to radio with Garrison Keillor in my career history. To find out how Tim became a voice-over talent and radio personality, read his career history. Pretty exciting stuff."